The Marathon OASIS "Rock 'n' Roll de Montréal" is a yearly event that attracts several thousand of participants in Montreal. This is a proven way to promote mental health and to prevent neurodegenerative diseases. We are now giving you the opportunity to actively participate in it!
At MCSA, we actively promote the theme of prevention to our members, donors, and friends of the Centre. There are three areas of prevention, which have shown most beneficial: cognitive training ('use it or lose it'), healthy diet ('you are what you eat'), and regular physical exercise ('a healthy mind in a healthy body').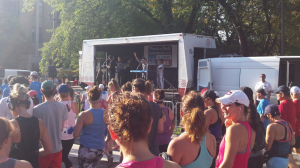 There are so many health benefits to physical exercise that it is hard to list them all – it strengthens your muscles, improves your cardiovascular system, helps maintain or promotes the loss of weight, increases the efficiency of the immune system, just to name a few. Where physical exercise really shines is what it prevents from happening – obesity, depression, cardiovascular disease, and most importantly in our context, mental disease. The link to dementia and neurodegeneration probably exists through the positive effects on your vascular system. Thus, participating in this event (and training for it!) is an active step you can take to prevent all kinds of bad things happening to you, including neurodegeneration and dementia. Since the event is staged to fit all ages and fitness levels, we invite you to participate! Consider doing the 5k, 10k, 21k or 42.2k to actively do something for your health, and prevent neurodegeneration! There's more – besides the direct health benefits, the proceeds of this event will go to help support the research at the Centre which investigates what science can do to help prevent the disease in the aging population, and what are the best treatment options for those who are already affected
Details of the Marathons MCSA participated and will be participating are as follows.
2017
2016
2015
2014
2013
2012
2011