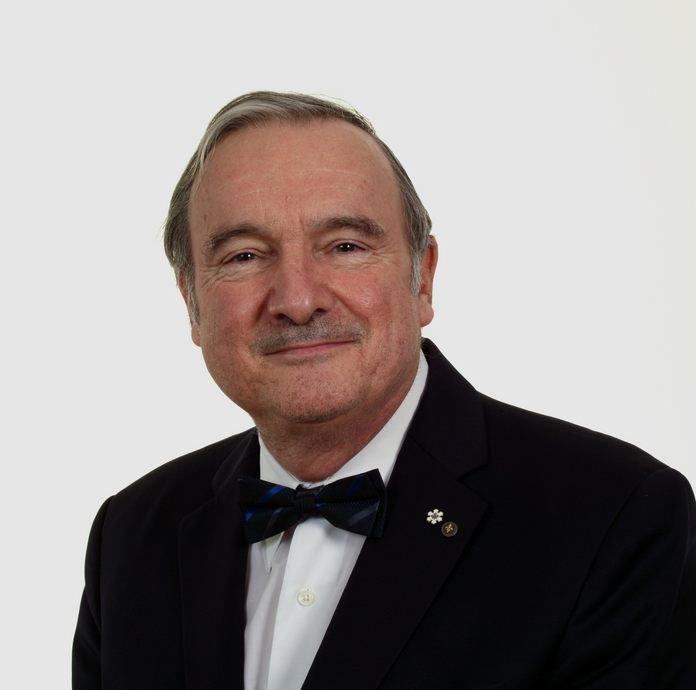 Dr Serge Gauthier is Professor Emeritus in the Departments of Neurology & Neurosurgery and Psychiatry at McGill University, and he is also the Academic Co-Lead for the McGill University Dementia Education Program. Previously he was Director of the Alzheimer's disease Research Unit at the McGill Centre for Studies in Aging, Director of the McGill Centre for Studies in Ageing and holder of a Research Chair at the Canadian Institute for Health Research,Clinical Investigator and Staff Neurologist at the Montreal Neurological Hospital and Institute.
His research interests include etiology and treatment of Alzheimer's disease and other related diagnosis, development of consensus guidelines on approval and use of antidementia drugs, and on the rights of persons with dementia to participate in research. Recent publications include Clinical Diagnosis and Management of Alzheimer's Disease (2006), Case Studies in Dementia (2021), ADI's World Alzheimer Report on the diagnosis of dementia (2021). His contributions to research include design and implementation of randomized clinical trials to establish the safety and efficacy of cholinesterase inhibitors, muscarinic agonists, and agents possibly modifying progression of Alzheimer's disease and vascular dementia. He was a recipient of the Prix Galien Award in 1997 and has he has authored over 700 peer-reviewed articles.
A Conversation with Dr. Pedro Rosa-Neto and Dr. Serge Gauthier
Dear MCSA Community,
We have the honour of announcing that Dr. Serge Gauthier has retired after 35 years. Prior to his retirement, Dr. Gauthier was the Director of the Alzheimer Disease and Related Disorders Research Unit of the McGill University Research Centre for Studies in Aging, and professor in the Departments of Neurology & Neurosurgery, Psychiatry, and Medicine at McGill. Furthermore, he has excelled in the field of Alzheimer Disease by establishing the C5R which is a single point of contact for the coordination of the Clinical Research Centres and Memory Clinics studying and treating dementia in Canada. He has been a leader in the Canadian Consensus Conferences on the Diagnosis and Treatment of Dementia. In 2014, Dr. Gauthier was appointed to the Order of Canada, as well as the Ordre National du Québec in 2017for his work in Alzheimer disease and dementia, and the development of research networks. In addition to such contributions, his vibrant personality combined with his relentless will to help people, has left an indelible imprint on countless patients, colleagues, and mentees along the way.
This exclusive interview honours Dr. Serge Gauthier, his incomparable career, as well as his retirement.
Dr. Rosa-Neto: 
Today, I have the pleasure and the honour of interviewing my mentor, supervisor, colleague, and friend Dr. Serge Gauthier. Thank you so much and welcome, Dr. Gauthier. The first question everybody wants to know, and I would like to know as well, is what made you want to become a physician?
Dr. Gauthier: 
That's easy to answer! It runs in the family on my mother's side. My grandfather was head of anaesthesiology at St. Luc's Hospital, my uncle was a pathologist conducting research on breast cancer and lymphoma. I was born and bred to be a doctor.
Dr. Rosa-Neto: 
How was your experience in medical school? What was going through your mind in the first and the second years of med school?
Dr. Gauthier: 
Well, I was only 17. I was the second youngest student in a class of approximately 140. So, I had to be attentive. I was fortunate during my time in medical school to have an elective rotation at the Montreal General Hospital for one month and got a glimpse of what it's like to be a neurologist. Dr. Alberto Aguayo was my supervisor.
Dr. Rosa-Neto: 
What made you transition from a medical doctor to neurologist?
Dr. Gauthier: 
Unfortunately, it's partly due to my mother's illness. She had multiple sclerosis, which started around the time I was in first year medical school, and so, I got to meet her neurologists. There was not a lot of treatments for M.S. in those days, but her treating physicians demonstrated a lot of empathy. I saw the way they performed their physical exams, the way they spoke to people, and was greatly impressed. I must also say that neurosciences in those days -we're talking about 1968-69, was well developed in Montreal.
Dr. Rosa-Neto: 
Since you were the youngest professor in your department at the time, do you have any specific memories regarding your academic progression?
Dr. Gauthier: 
Well, when I took a staff position at the Neuro I was 26 years old. I was at the right place and at the right time. I just went with the flow of life, which is a good philosophy for people working in a field where change is constant. I was lucky to meet people like my teachers, Dr. McNaughton. Then colleagues such as Dr. Pierre Etienne, Dr. Michel Panisset, and you. And of course, my wife, has offered constant support throughout it all, even during many trips around the world!
Dr. Rosa-Neto: 
There are many events that have happened in your career. For example, disclosure of the genes associated with the disease, the introduction of new concepts regarding the clinical dimension of the disease, then the introduction of a few therapies. In your opinion, what progressed the most over the years? What is the biggest difference you see when comparing today to the late 70s and early 80s, regarding the progression of the field?
Dr. Gauthier: 
Some things have remained constant: we must properly make and disclose the diagnosis, and support the family through the stages of the disease. There are more resources for families. Dr. Judes Poirier and I re-edited our book for families this year (La maladie d'Alzheimer, Le Guide), McGill Dementia Education Program (DEP) was recently created and is a partner with the MCSA.
Dr. Rosa-Neto: 
In your opinion, what's next, what's coming, do you think we are close to achieving a therapy?
Dr. Gauthier: 
I think anti-amyloid drugs are around the corner. These medications will be effective to reduce the amyloid load in the brain. But we need to learn more about them, to use them wisely for the right patients, at the right stages of the disease. These are not like donepezil where you can stop and see if it makes a difference. If you start, you should continue it for at least two years, and then see if it slows the progression of the disease. These will be intravenous infusions, most of them. So, we'll need to learn from other neurologists who do M.S. treatments or other internists. We can do it at home with trained nurses rather than using our hospital beds or clinics. The other thing I expect is anti-tau therapy will be effective. My hope is at some point, maybe in three or five years, we'll be able to combine therapies. It's going to be a challenging study design but nonetheless, it needs to be done.
Dr. Rosa-Neto:
Fantastic! I would like to take this opportunity to thank you for everything you have given to us during all these years, especially to me and to the students from MCSA. You are an important role model for us. Once again, thank you.
On Wednesday, June 30th, 2021, the McGill University Research Centre for Studies in Aging celebrated the illustrious career of Dr. Serge Gauthier to wish him well on his future endeavors in retirement. Dr. Gauthier has provided us with over 35 years of devoted service with the purpose of helping others live happier and healthier lives, which had been an absolute joy to everyone, staff, and patients alike. During the celebration, hosted by Dr. Dolly Dastoor and MCSA director Dr. Pedro Rosa-Neto, 87 people gathered virtually to Celebrate Dr. Gauthier as loyal friend, caring doctor, and a thoughtful mentor. The MCSA was delighted to have multiple world-renowned doctors speak in honor of Dr. Gauthier, such as Drs. Remi Quirion, Zaven Khachaturian, Jeffrey Cummings, Bruno Dubois, Liyong Wu, Yves Joanette, Abraham Fuks, Jose Morais, Paolo Vitali, Maiya Geddes, Gerhard Multhaup and so many more! We also had the pleasure of having Dr. Gauthier's family say a few words. Longtime friends and colleagues Silvana Aguzzi and Tamar Tatigian surprised Dr. Gauthier at his house with decorations, a gift basket and a portrait drawn by local artist DavidDurham. To show our gratitude to Dr. Gauthier, we have named a research fellowship fund in his honour to help future researcher come to the MCSA. Donations are gratefully accepted in honour of 'Dr Serge Gauthier Dementia Research Fellowship Fund'.