World Alzheimer's Day 2022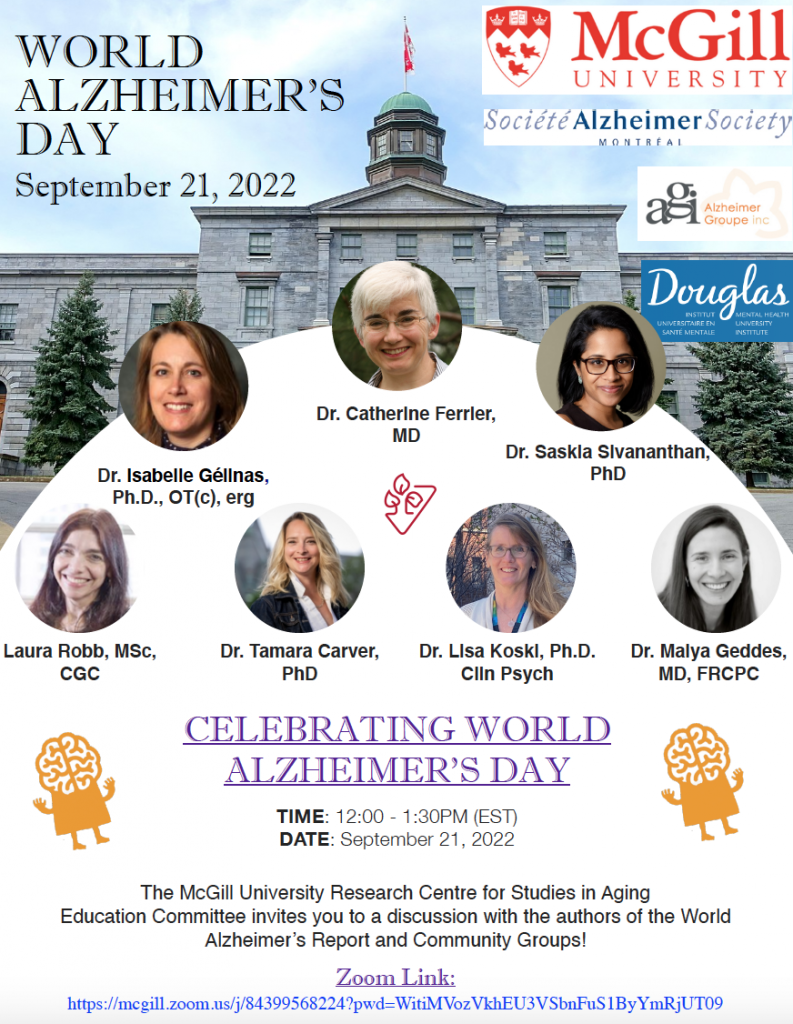 In honor of World Alzheimer's Day, and in celebration of the launch of the World Alzheimer's Report 2022, the McGill University Research Centre for Studies in Aging's Education Committee hosted a special event 'Celebrating World Alzheimer's Day!'
On September 21st, 2022, following the launch of the World Alzheimer Report 2022, The MCSA Education Committee hosted a panel discussion with 7 of the 149 contributing authors of the World Alzheimer's Report 2022. 148 participants signed into the virtual events to hear the authors elaborate on their experience of writing the report and their findings. The MCSA Education Committee lead by Chair Dr. Dastoor, invited the following authors to speak: Laura Robb, MSc, CGC, Dr. Tamara Carver, PhD, Dr. Lisa Koski, PhD, Dr. Maiya Geddes, MD, FRCPC, Dr. Isabelle Gélinas, PhD, OT(c), erg, Dr. Catherine Ferrier, MD, and Dr. Saskia Sivananthan, PhD. 
A companion to last year's World Alzheimer Report report, 'Journey through the diagnosis of dementia', 'Life after diagnosis: Navigating treatment, care and support ' explores the many facets of life for people with dementia, their carers, and healthcare professionals following a diagnosis of dementia through 119 essays across 24 chapters, written by experts from around the world – whether they be researchers, health and social care professionals, informal carers, or people living with dementia speaking from experience.
Watch the event here: https://youtu.be/J33W8Wt-kG8
World Alzheimer's Day 2021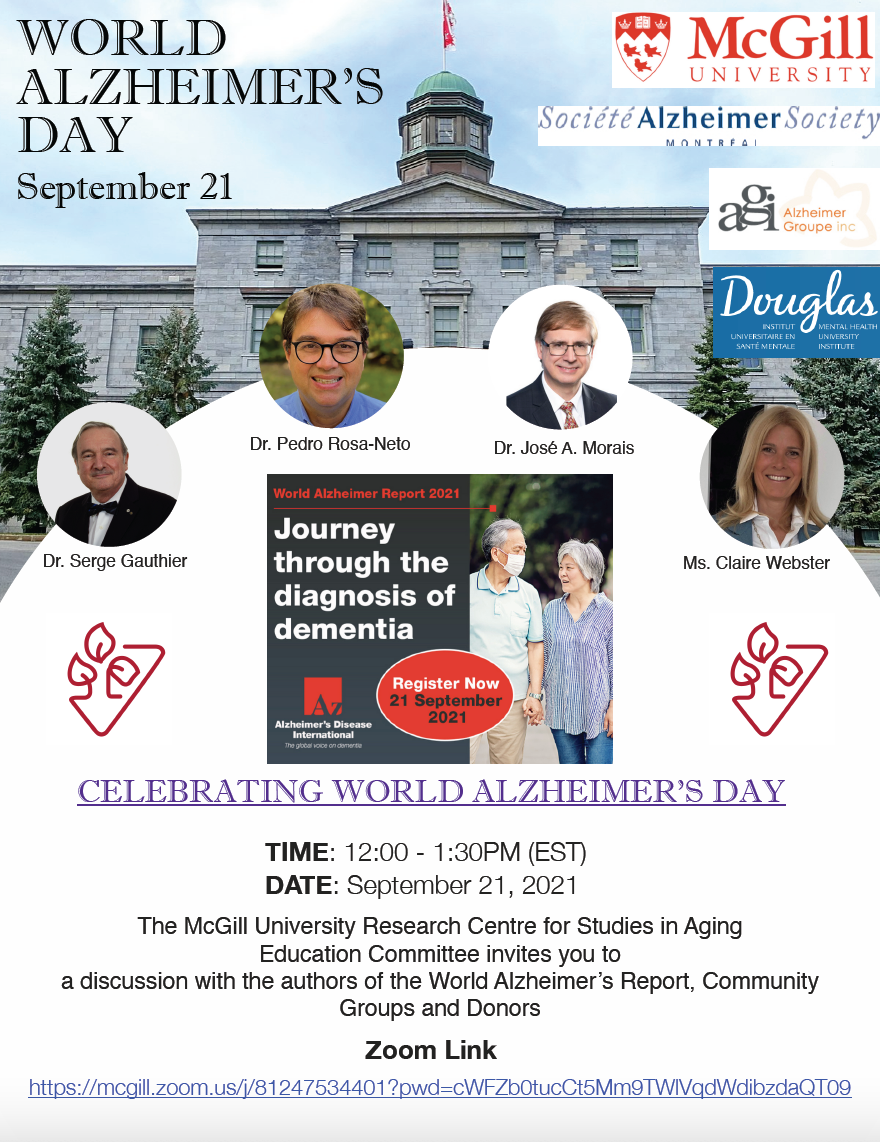 On September 21, 2021 after the prompt release of the World Alzheimer Report 2021, the MCSA Education Committee invited diverse community groups, Brainy Boomer's participants, donors and patients for a 90 minute virtual panel discussion to learn more about this report in which there were 90 attendees. The MCSA Education Committee lead by Chair Dr. Dastoor, invited the following authors Dr. Serge Gauthier (MCSA member), Dr. Pedro Rosa-Neto (Director of the Centre), Dr. José Morais and Ms. Claire Webster to explore the writing process of the report, the trials and tribulations they had to undergo to complete this massive International report on time. 
The authors were introduced by the members of the MCSA Education Committee, Dr. Loraine Mazzella Maiolo, Dr. Michael Wiseman, Dr. Maiya Geddes and final remarks were shared by Mrs. Jeane Day, Executive Director of Alzheimer Society of Montreal, and Mrs. Meghan Williams, Director of Support Services of Alzheimer Group (AGI). This event gave us exclusive insight on how world reports on difficult subjects are conceived and developed by experts from around the world. It gives us hope knowing that renowned experts around the world are working delingently together to find novel and refined treatments for this devasting disease for the growing aging population. Some recommendations were: an annual brain checkup for people over 50; timely clinical diagnosis; build on technology based approach; and Government must prepare for the high demand of health care services as a result of global aging.