Once a year, the Alzheimer's Disease International (ADI) produces and launches the World Alzheimer Report which provides the public with quality information on dementia. We are honoured to announce that ADI has commissioned McGill University to deliver the next two editions of the World Alzheimer Report for 2021 and 2022. On September 21st the World Alzheimer Report 2021 titled "Journey through the Diagnosis of Dementia" -which covers the topic of diagnosis, was launched worldwide. Seeing as though September 21st is designated World Alzheimer's Day, it was most appropriate for the report to be launched that day, and even more so at this point in history. Chris Lynch, ADI's Deputy CEO and Policy, Communications and Publications Director, expresses how the timely release of the report is due to the current revolution in diagnostics around Alzheimer's Disease and dementia, the global aging populations, and treatments and drug therapies that are just on the cusp of breaking through.
This six-part report of 25 chapters is authored by our very own MCSA members, Dr. Serge Gauthier, Dr. Pedro Rosa-Neto (Director of the centre), Dr. José Morais and Ms. Claire Webster. It consists of over 50 essays on specific topics (i.e. frontotemporal dementia and biomarkers) from numerous leading experts worldwide, and findings that are supported by three global surveys. Responses to these surveys are quite representative as they were collected from a diverse and global sample: 1,111 clinicians from 108 countries (from all income classes), 2325 people living with dementia and caregivers from 83 countries, and over 100 Alzheimer and dementia associations. A key survey finding highlighted in the report states that 75% of people with dementia are not getting diagnosed. This issue is most prominent in low- and middle-income countries where 90% of cases are undiagnosed. Moreover, they found that 47% of people living with dementia and their carers reported a lack of trained clinicians as a barrier to diagnosis, and 33% of clinicians believe that nothing can be done about dementia thus creating an additional impediment to diagnosis and reinforcing the longstanding stigma. The report also contains multiple recommendations; one includes having the health care system implement annual brain health check-ups for individuals over 50 years old. For example, cognitive and functional tests that assess whether the individual is still able to perform daily tasks and activities.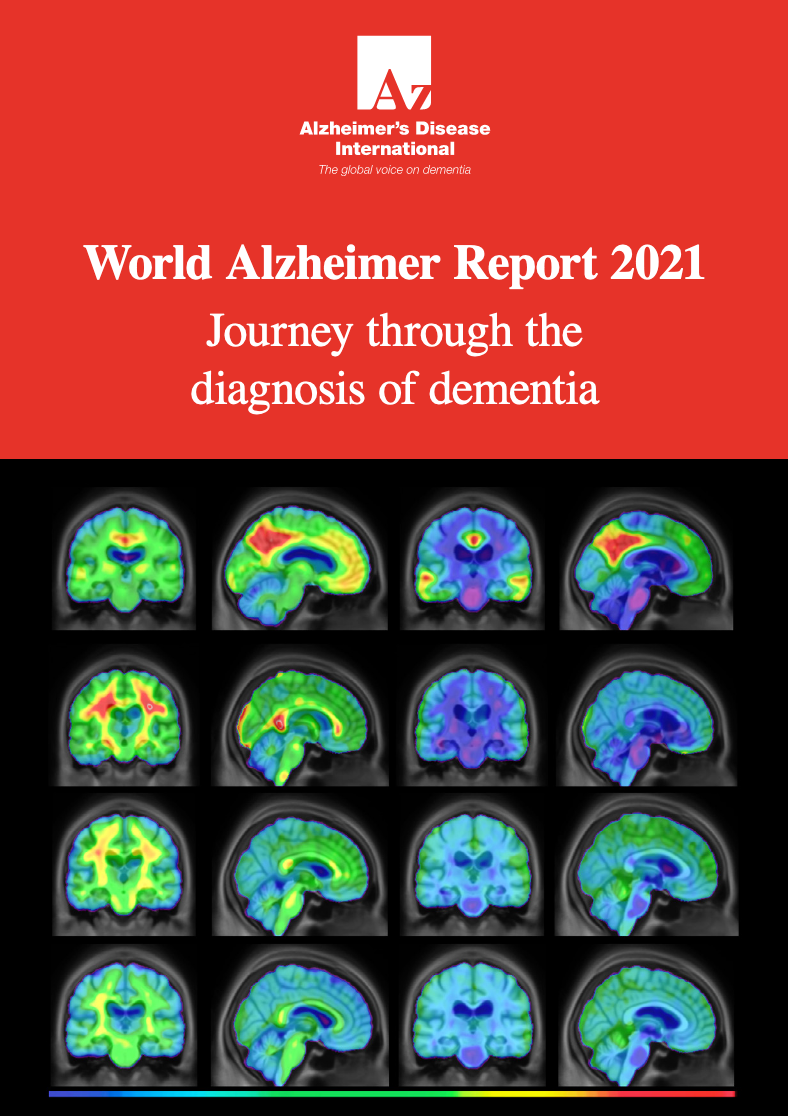 Following the ADI Zoom event that took place in the early morning, the MCSA Education Committee -in association with Alzheimer Group Inc. and Alzheimer Society Montreal, organized their own Zoom session in honour of this special occasion. It was presented as a Brainy Boomers Special vent. A total of 2 attendees gathered to watch the live Zoom conference as Chair of the MCSA Education committee, Dr. Dastoor, opened the event with a brief introduction on the long-awaited report. She then invited the four authors to speak on their individual experiences of the writing process, and how they contributed to the project. Drs. Loraine Mazzella-Maiolo and Michael Wiseman, both members of the MCSA Education Committee, along with Drs. Maiya Geddes and Dolly Dastoor introduced the four main authors, respectively. The first author to speak was Dr. Gauthier, who explained that throughout the six-month writing process, the team met every week virtually, and bi-weekly with ADI. !e spoke about the four authors' decision to write the report for patients who are seeking a diagnosis or who just received one, as well as for clinicians who wish to learn how to diagnose. Their target audience also included government personnel. Dr. Rosa-Neto followed suit by explaining that dementia, a clinical syndrome, is a consequence of diseases silently present in the brain for many years. Attention can now be focused on the therapeutics capable of stopping the pathological processes leading to the disease. By using biomarkers via blood samples, they can diagnose the causes underlying the dementia and ultimately stop their progression, all of which is further covered in the report. Dr. Rosa-Neto also shared how the report speaks on the diagnosis of dementia in populations with down syndrome, and its attempts to delineate the advantages of investigating the causes in these patients.
The conference continued to unfold as the role of the clinician in disclosing diagnoses was clarified by Dr. Morais. That is, the clinician should encourage the need for follow-up visits which 90 of patients reported having follow-up visits, while 45 of these visits take place in 2-6 months, take into consideration the concerns and worries of the patients, and be clear and sensitive. He continued to share how the report summaries the challenges clinicians are confronted with when making a diagnosis. One example includes dealing with catastrophic reactions i.e. crying, yelling by the patients due to an official confirmation of their difficulties and being overwhelmed by the diagnosis. The overall conference —and of course the report, could not have been complete without incorporating the lived experience, knowledge and insight of former carer, Claire Webster. Her role in this report was to educate both the individual receiving the diagnosis and their carer. She explains that not only does the report contain her own journey as a carer —stating that being properly educated would have had a significantly positive impact on both the quality of care provided to her mother and Ms. Webster's own well-being, but also touches on the impact of COVID-19. Jeane Day, executive Director of Alzheimer Society Montreal, and Meghan Williams, Director of support services at AGI Groupe Inc, followed soon after by discussing the roles their respective organizations play in dealing with Alzheimer's Disease, and the programs offered to assist those affected. A subsequent 15-minute Question and Answer period took place which then led to a video showcasing participant testimonials in english and French of the TRIAD cohort program. To conclude the conference, Drs. Dastoor and Rosa-Neto gave their closing remarks. MCSA would like to thank everyone who attended the event, and congratulate Drs. Gauthier, Rosa-Neto, Morais and Ms. Webster on the long-awaited launch of this report.
For a copy of the report and to stay up to date on the 2022 release, please click this link:
https://www.alzint.org/resource/world-alzheimer-report-2021/